Tap into your bliss
Regular price
Sale price
$35.00 USD
Unit price
per
Sale
Sold out
It is not always easy to dedicate time for you everyday.
This 53 card deck of self-care cards provides simple ways to devote a little extra love and attention to yourself. You can pick a new card each week or rotate through on a daily basis. The cards are broad, leaving them open for interpretation. This deck is for you. Use each card in a way that speaks to you.
*Includes an additional explanation card

Cards measure: 2.5 x 3.5
Bag measures: 4 x 6 inches
Not sure where to start? Check our FAQs
Return Policy

Your satisfaction is important to us. If you are not satisfied with your purchase in anyway, email us at mandi@blyssen.com. We will either exchange or refund your purchase.

To recieve a full refund, contact us within 30 days of receipt of purchase. 
Self-Care Tips

Pull a card when you wake up and incorporate the activity into your skincare routine or a part of your day. There are no limits or rules, so use the card however it speaks to you.
Share
View full details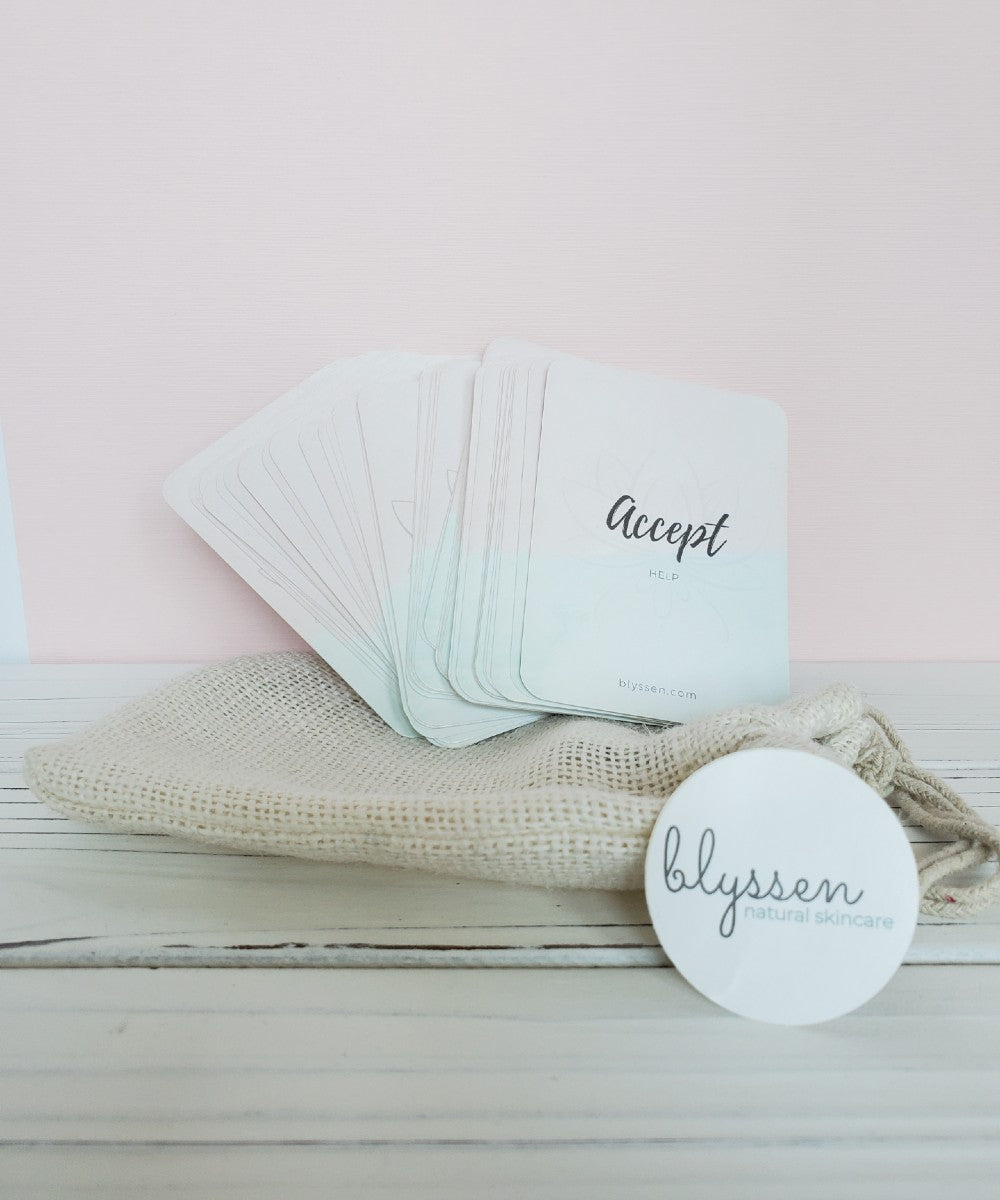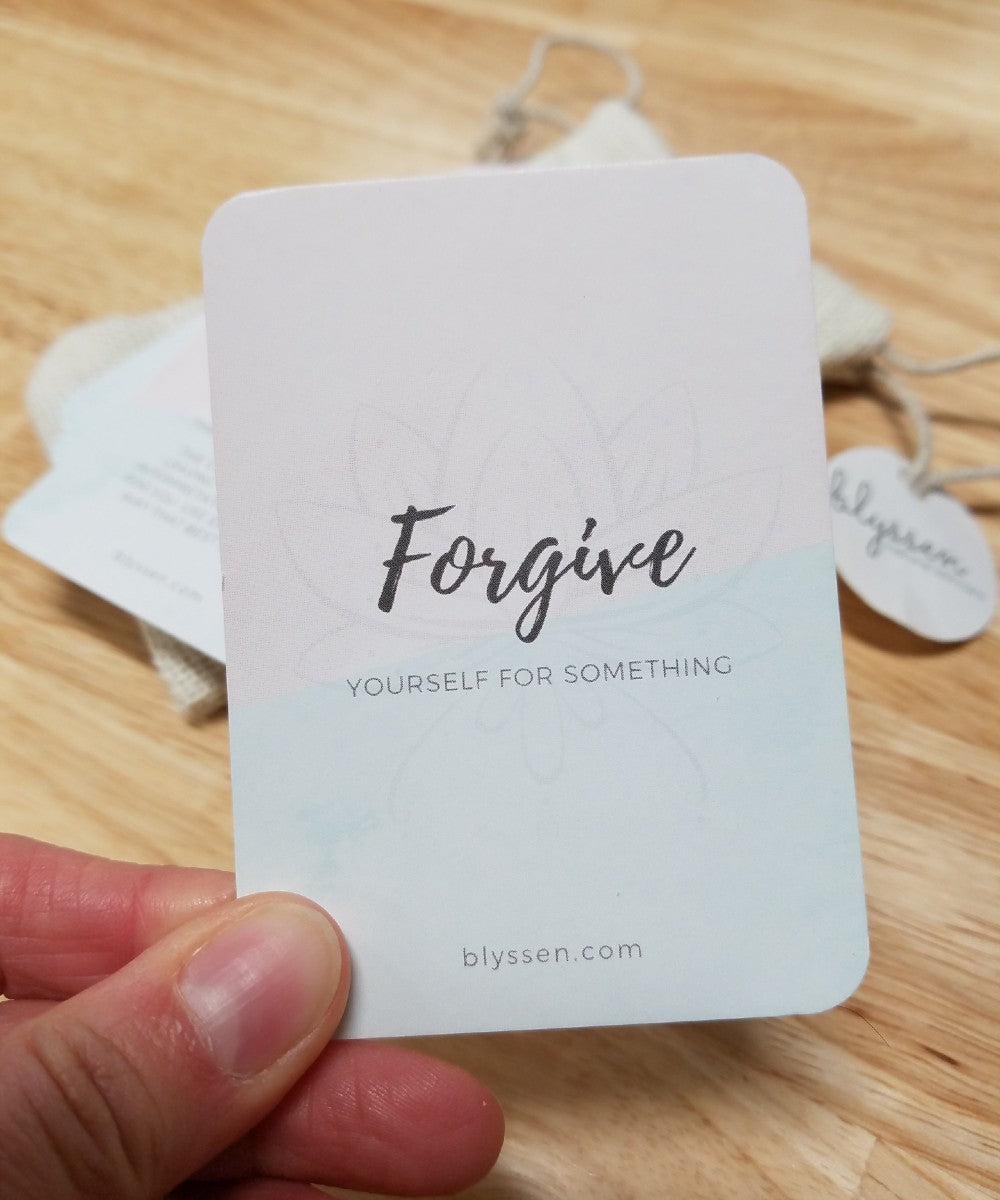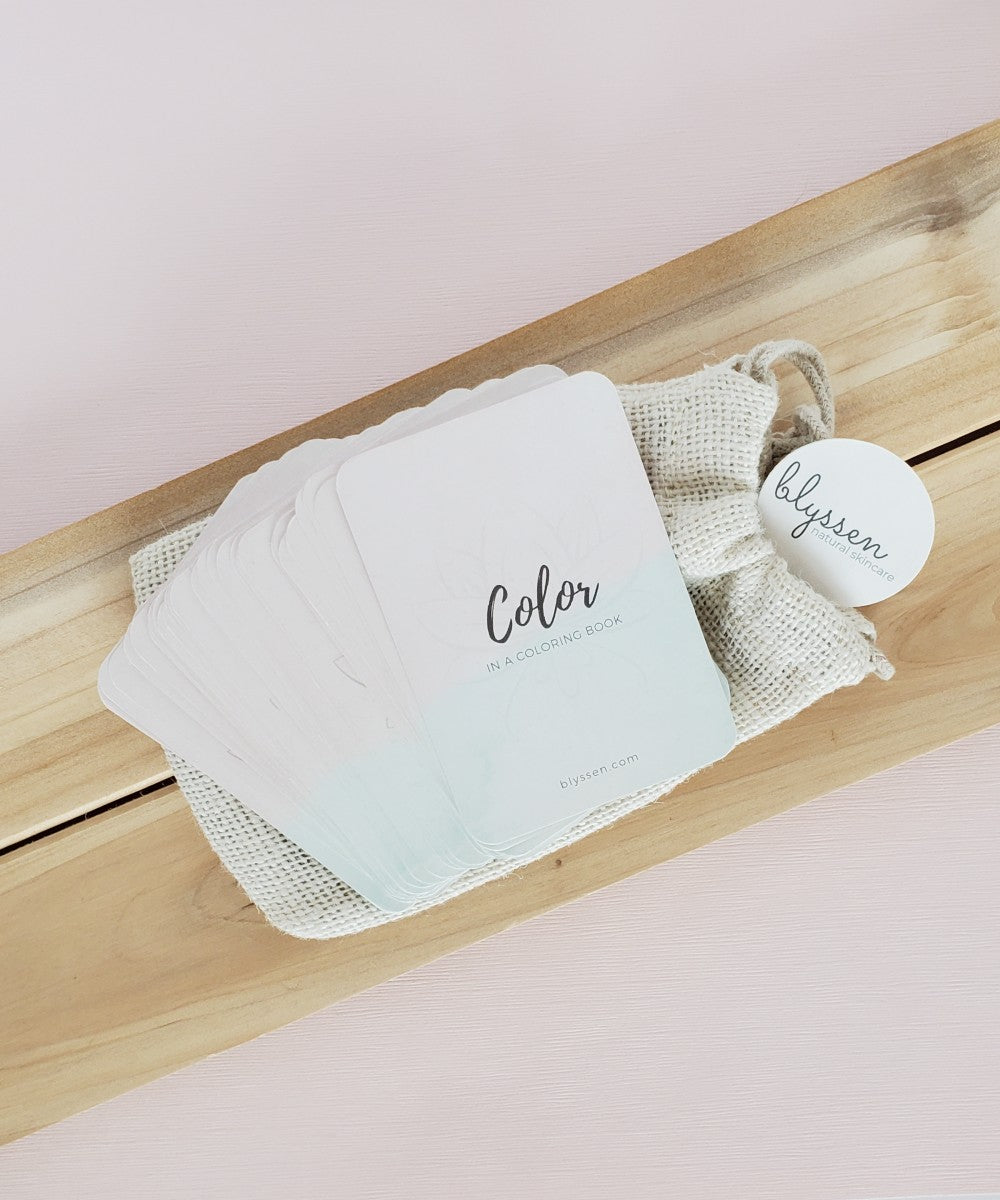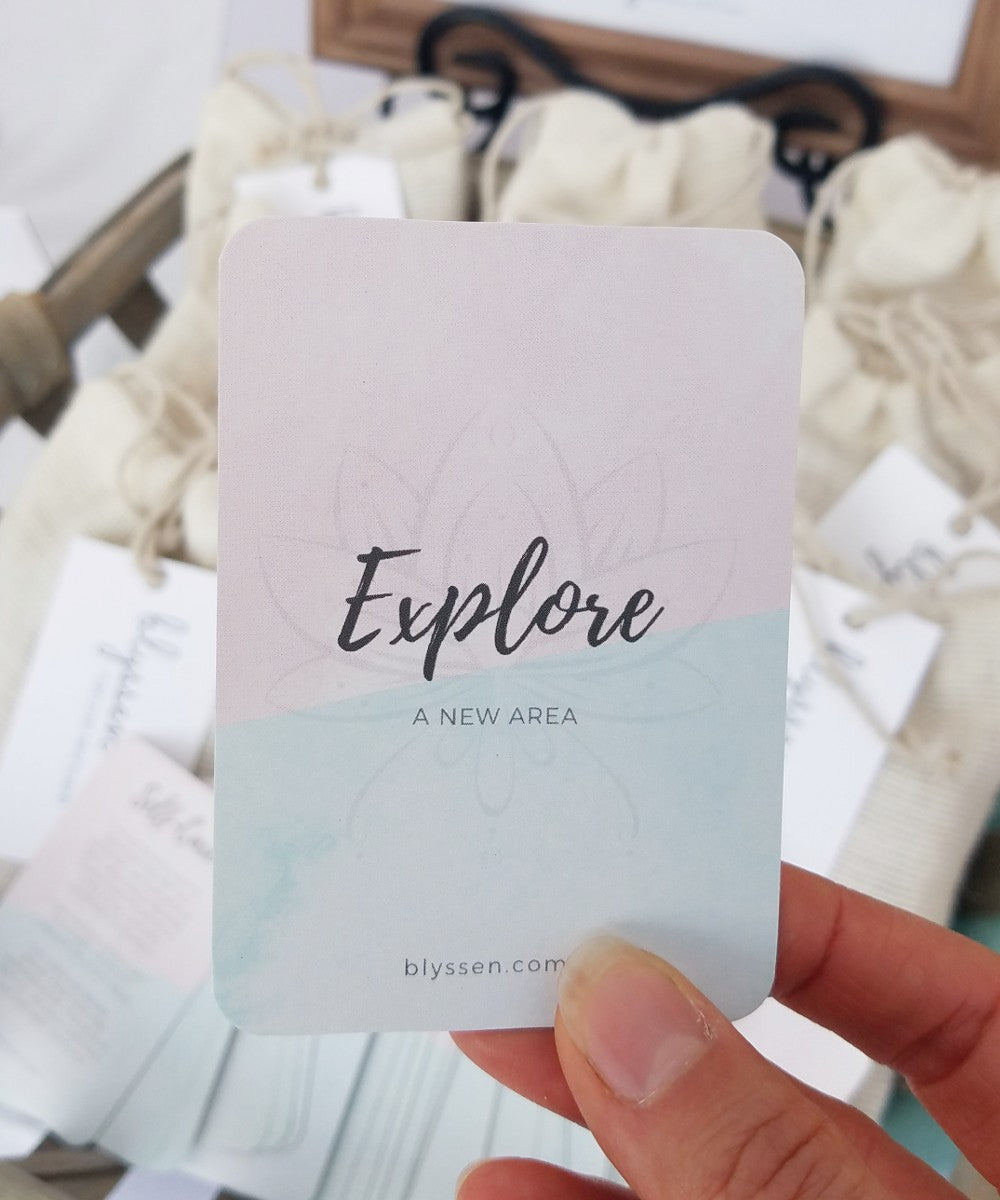 FAQs
Where to Start
If I'm not ready to commit to an entire routine, which product would you recommend I try first?

Try our Rejuvenate Facial Oil for soft, moisturized, and rejuvenated skin. This daily moisturizer is light weight, easy to use, and locks in hydration. You'll love how your face feels and your new healthy glow, without leaving it feeling greasy.
I don't have a skincare routine, what do you recommend?
When can I expect to see results?

Your skin may feel more moisturized and softer within a few days. Some customers have noticed a reduction in under eye dark circles within a week. It typically takes 30 days to 45 days of consistent use to see improvement in fine lines and wrinkles. 
Our skincare products may help fight free radical damage, as well nourish or even repair your skin barrier. Some of these benefits are not visibly noticeable, as they help protect your skin from future damage. Rest assured that you are taking great care of your skin even if you don't see physical results.
What if I don't know my skin type?

You are not alone. Find your skin type using our graphic below. If your skin type fluctuates, or you still aren't sure, try our face oil sample pack for a 1 month supply or all three face oils.
Do you offer samples?

Samples are great for seeing what works for your skin. We offer sample sizes (0.125 or 1/8 fl oz) of our face oils and under eye oil. For the face oils, this is about a month's supply. For the under eye oil, it is 2-3 months supply.
Can I use Blyssen products while pregnant or breastfeeding?

Our products are free of essential oils and other contraindicative ingredients. Please consult your doctor to choose what's best for you.
How to Use
How do I use my oil cleanser?

Gently massage 4-6 drops onto face and neck. Apply to dry skin and let sit for at least 60 seconds. Wipe off with a soft wash cloth of warm water.

Use 1-2x daily morning or night (recommended).

How do I use my facial oil?

Gently press 2-5 drops onto face and neck. Apply to slightly damp skin after cleansing and toning morning and/or night. Use twice daily and your face will feel soft and moisturized all day long. Face oil should absorb in 60 seconds. If not, gently pat off any excess oil and apply less next use.

Use 1-2x daily morning or night (recommended).
How do I use my under eye oil?

Gently dab 1 drop under eyes using your ring finger. Apply up to 3x daily for maximum results.

Use 1-3x daily morning or night (recommended).
Do you have any skincare tutorials?

Watch our 

5-Minute Skincare Routine tutorial to see how easy it is to incorporate into your busy day

. In the video, we demonstrate how to use each individual product. 
I have multiple skincare products, which order do I use them all?

Cleanser
Toner
Serums and Target Treatments
Water-based Moisturizers
Face Oils
Balms (nighttime) or Sunscreens (daytime)
Always check the product's directions. Some usage is based on molecular weight and my not follow this order.
What should I do if I have a reaction?

Discontinue use immediately. Wipe off product and rinse with cool water. Apply a cold compress to soothe.
Contact us to help determine the cause so you can avoid exposure to that ingredient(s) or botanical family in the future.
We want you to love your skin and how it feels. That is why we offer a 30 day guarantee.